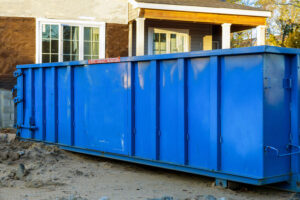 Whether you're remodeling your home, constructing an addition, or de-cluttering your home, a dumpster rental will benefit you greatly. The trash that you accumulate from any of these tasks can be very overwhelming, so it's always important to have a designated spot to throw it out in. With dumpster rentals from A1 Dumpster Rentals, you'll be able to consolidate the items you need to get rid of into one large container!
Don't Fret About Clean-Up
One of the biggest headaches when it comes to additions or remodels in a home is the mess that they make. With new materials, demolition of the old, and other trash that is gathered from these projects, it makes for a big mess if you don't have an area to throw all of it out. With our dumpster rentals, you can leave the stress of trash removal and clean-up to us.
We have different dumpster rental sizes for your specific projects and cleanups. We'll be able to deliver a dumpster to you and make sure you have the room for it to fit in your driveway.
The Benefits:
Eliminate trash mess
Consolidate all trash into one dumpster
Make your project run more efficiently
Spend less time cleaning up after the project
What Does A1 Dumpster Rentals Offer?
Dumpster Delivery to Business/Residence
Demolition Clean Up
Construction Clean Up
When to Consider a Dumpster Rental
Dumpster rentals can be very beneficial in many circumstances. When it comes to your residential home, a dumpster rental should be considered if you're doing a home remodel, moving to another home, or having construction done for a home addition. The dumpster will provide an easy and efficient way to get rid of the trash.
For commercial businesses like small restaurants and offices, dumpster rentals will be considered if there is an office move, restaurant remodel, and other trash removal purposes.
If you're in need of an easier way to get rid of trash from your home or business, don't hesitate to reach out to us. Contact A1 Dumpster Rentals at a1dumpster@gmail.com today or visit us online for more information!