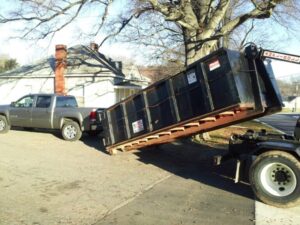 Moving out of a home and into a new home is very exciting. It's a fresh start for you and your family, but it can also be a big job. It takes time and energy to get everything packed up and ready to be moved out. Many homeowners tend to pack almost everything up, but one of the most beneficial things you can do when moving is to get rid of all the unnecessary items or unused materials.
This is where A1 Dumpster Rentals comes in handy. We have been in the business of dumpster rentals for home renovations and moving for over 25 years in North Carolina and South Carolina.
Benefits of a Dumpster Rental
Renting a dumpster for your move can save you so much time in the process. It will allow you to eliminate items and materials that are not used anymore. It also gives you the opportunity to clean out the house and get rid of the trash that builds up when cleaning and moving out.
De-Clutter Your Home Before Moving
Make Packing and Loading Easier
Keep Things Organized
Save Time
Get Rid of Unwanted Items/Materials
Why Choose to Rent a Dumpster for Your Move?
The work that needs to be done in order to move homes can be daunting, but with a dumpster rental from A1 Dumpster Rentals, your job just got much easier. We come and deliver the dumpster to your home and place it on your property where you'd like. You have easy access to dump your trash and unwanted garbage in the dumpster.
We have different sizes for your liking depending on how much you need to throw away before you move. If you're looking to make your move a little easier, contact A1 Dumpster Rental at a1dumpster@gmail.com today or visit us online for more information!