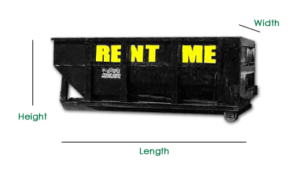 How do I decide the right size dumpster for the job? Its not easy to picture what size dumpster is right for you, especially specially since we offer five different size dumpsters. Ask yourself these questions…
What Material Will Be Going in the Container?
This is a very important question because each container comes with a weight limit. The heavier the material the larger container may be a better fit. If you're doing a larger renovation to your home, it might be a good idea to acquire a large dumpster for the debris.
How Long is the Dumpster Needed?
If you need the container for a long period of time, the monthly rental is the way to go. We prefer to keep monthly rentals in our smaller containers. We are mostly geared towards short term rental but we will try to adapt to what a customer needs. If you're buying a new home and moving out of the old, you may need a longer dumpster rental to declutter your old home.
Our smallest container is a 12yrd typically those hold three to four pick up truck loads of material. Always be mindful of how you load the container and the size of the items that are going in the container. As the size goes up add one or two pick up truck loads to it.
If you're in need of a dumpster rental for different projects, don't hesitate to reach out to us. Contact A1 Dumpster Rentals at 704.391.7030 (Charlotte, NC), 803.951.1713 (Lexington, SC), or visit us online for more information today!