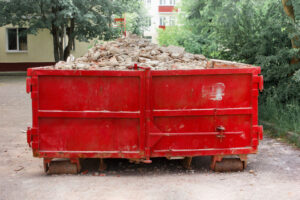 When undertaking a home remodel, one of the significant challenges is dealing with the inevitable accumulation of construction debris. From broken materials to discarded fixtures, managing the waste can quickly become overwhelming without a proper disposal solution in place.
That's where A1 Dumpster Rentals come to the rescue.
The Scale of Construction Debris
Home remodels often involve demolition, construction, and renovation activities that generate a substantial amount of debris. From old drywall and flooring to torn-out fixtures and excess building materials, the volume of waste can quickly add up. A1 Dumpster Rental provides dumpsters in various sizes, ensuring you have ample space to dispose of all your construction debris.
Efficient Waste Management
Proper waste management is crucial for maintaining a safe and organized work environment during your home remodel. A1 Dumpster Rental offers convenient and efficient waste disposal solutions, enabling you to keep your workspace clean and clutter-free. By having a designated dumpster on-site, you can easily dispose of debris as you go, minimizing the risk of accidents, injuries, and delays caused by clutter.
Time and Cost Savings
Handling construction debris can be time-consuming and costly if not managed efficiently. Renting a dumpster from A1 Dumpster Rentals can save you valuable time and money. Rather than making multiple trips to local waste disposal facilities or relying on unreliable pickup services, you have a designated dumpster conveniently located on your property. This eliminates the need for multiple trips, streamlines the waste disposal process, and allows you to focus on your remodel without interruptions.
When embarking on a home remodel, don't overlook the importance of safely handling construction debris. A1 Dumpster Rentals offers an essential solution to effectively manage and dispose of waste generated during your project. By renting a dumpster, you can ensure a safe work environment, comply with local regulations, promote sustainability, and save time and money. Trust A1 Dumpster Rentals to make your home remodeling experience smoother, safer, and more efficient.
Contact A1 Dumpster Rentals at a1dumpster@gmail.com today or visit us online for more information!